Strike rate

Evidence for usefulness of SRA2001
The results speak for themselves, from the beginning of September 1996 to April 1997 my Strike Rate was almost every second race (44.43 %) and the average winning percentage was 371 % on the daily investment. The multiple Quinella and Trifecta collects made this possible.
Previous strike rate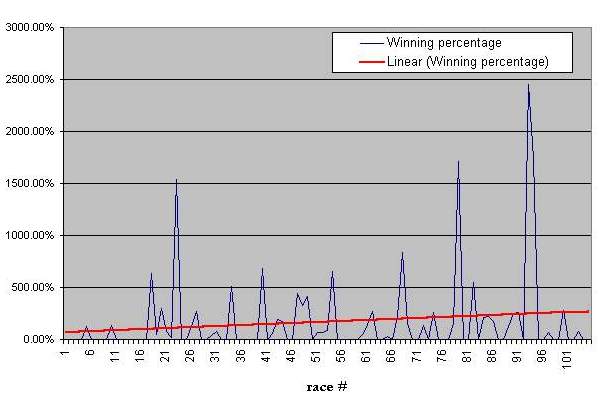 This remarkable accomplishment was achieved working on the form at home, using only phone TAB facilities, relying on race morning's prices as a guide. As I am confined to a wheelchair (11 years) it is difficult to go to the racetrack . So my program was developed along these lines, which is equally successful for the stay at home punter .
The most "spectacular" successes were in Big Money Races. When there is big prize money up for grabs, surprising how much truer the form reads. Also some of the lead-up races to group events, one seems to find the contenders running more to their true form.
Enquiries to: Les Burton
P.O. Box 455, Surry Hills, NSW 2010, Australia
Phone: +61 2 9310 3241
Home Page: http://scientificracing.tripod.com/
Copyright © 2001 by Les Burton, Australia. All Rights Reserved.
Last updated January 2003
Click here if you don't see a red navigation bar on the left